Meet the Team
Dance Teacher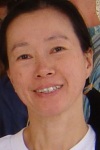 Leong Siew Yeng 中文: 梁笑英
Ms Leong, a prominent figure in the Chinese dance circle, is the Artistic Director and Choreographer of Leng Kee Dance Troupe and former Principal Dancer of Singapore National Dance Company. She is a registered instructor with the Ministry of Education and the People's Association.

She has over 30 years of experience in choreography and training of young dancers. She is able to handle many roles of any dance production, from conceptualizing the whole concert to being the artistic director, choreographer, rehearsal master, costume designer and source for music and props. Injected into her choreography is a blend of contemporary and traditional elements. 'Sandstorm', a dance that won the first prize at the National Chinese Dance Competition in 1999, showcased this distinct trait in her works in which she applied contemporary movements to traditional ribbons. Another choreography is 'Swept Away' which used Chinese long sleeves to represent the waves of a tsunami.

Leong's inspiration for dance creations often stem from nature and daily life. Adept at capturing the essence of these elements, she is able to employ familiar everyday themes and concepts that appeal to both young and old. She also choreographs dances with local cultural flavour. For example, the dance "Our Foundation" paid tribute to Singapore's Samsui women for their contributions towards Singapore. 'Nostalgia', it captured the yesterdays of Kampong life and 'Braving the Inferno' which is a modern dance that salutes the bravery of our local firemen.

Constantly upgrading herself, Leong participated in the 2nd Dance Education Conference – Choreography: Approaches, Safe Dance Practice and Resources (2007) and Creative Movement for Dance Education (2009) organized by the Ministry of Education. She was also part of the delegation of dance practitioners who went on a study trip to Beijing and Shenyang, China led by officials from the National Arts Council in Aug 2009.

Tay Hee Ngerng 中文: 郑喜银
Ms Tay was selected to join the National Dance Company under the former Ministry of Culture in 1984. In 1990, she performed with the National Dance Company at the First Asean Dance Festival held in Indonesia. In 1994, she was the first Singaporean to graduate from the prestigious Beijing Dance Academy majoring in Classical Chinese Dance. In 1995, she returned to Singapore and presented three sold-out performances of her solo concert 'Tay Hee Ngerng's Soliloquy' produced by Frontier Danceland. Over the last three decades, Tay has been in the role of being a dancer, teacher and choreographer.

Tay is much involved in managing and organising arts event in recent years. She was the Chairman of the Chinese Dance Artistes' Association (CDAA), Singapore for year 2009 to 2011. In May 2009, she led CDAA on a cultural exchange program to Vietnam National Opera & Ballet. In August 2009, she was one of the delegates on a study trip to China organised by National Arts Council. In May 2010, with CDAA, she led a get-together cultural trip to Indian Kashmir. In September 2010, CDAA produced its first full-length work 'Romance of the White Snake' which she was involved as the the Chairman for the working committee and was the choreographer for the Prologue.

Tay is a registered ballet teacher with the Royal Academy of Dance (UK), a registered instructor with the local Ministry of Education and the People's Association. Her professional dance achievements include Diploma (Performance), Chinese Dance Graded Examination Teaching Certification and The Chinese Ethnic Folk Dance Grade Examination Certificate for Teacher from China; She holds the Teaching Diploma of the Royal Academy of Dance (RAD) and is an Associate member of the RAD. She obtained the RAD Advanced executants examination certificate. She obtained Bachelor of Arts (Dance) with Distinction from QUT Australia.
Ballet Eastern Dance gratefully acknowledges the kindness and generosity of the following for their support and contributions.
Teacher assistant, Communication Tessa Chua Teacher assistant, Costume Jastine Tan Teacher assistant, Props Veronica Khaw Front of House Patricia Pang Make-up Neo Hwee Tin Hairgear Teo Peck Hoon Crew Dennis Ang Audio Compiler Gregory Lim Photography Raymond Chua Photography / Videography Bong Tze Yew Visual Designer / Media Producer Germaine Tay Contact us should you need the service of photography, graphic design or dance costume. 郑喜银舞蹈学校衷心感谢以下的制作团队支持者: 教师助理 / 通讯 蔡慧颖小姐 教师助理 / 服装 陈瑞莹小姐 教师助理 / 道具 许慧敏小姐 教师助理 / 前台 彭玉芬小姐 教师助理 / 化妆 梁惠珍小姐 教师助理 / 头饰 张碧云小姐 幕后助理 洪伟龙先生 音乐效果 林育宗先生 摄影 蔡承材先生 视频 / 摄影师 黄子有先生 视觉 / 平面设计师 郑思敏小姐 如果您需要摄影,平面设计或舞蹈服装的服务,请联系我们。